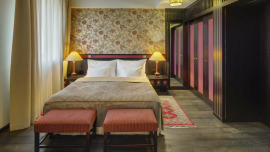 Prague out of center

→

Prague Castle District, Prague 6 •
Prague Hotel Savoy is 5-star prague hotel and the first member of the Leading Hotels of the World in the Czech Republic. In the early 1990s the newly rebuilt and renovated boutique Hotel Savoy rose from its historical ruins. Behind the original Art Nouveau façade dating from 1911, the discerning guest will enjoy elegant comfort and stylish ambience coupled with the most modern facilities and technology.
more info